THE FARADAY CUPS

TABLE OF CONTENTS:

| | |
| --- | --- |
| | Open the Isolde Controls file in the Isolde Control System directory. Choose the Easy Eqp. Access tool. Enter qps.fc490 in the Equipment name dialog box. Press the Attach Control Panel button. The Faraday cup GPS.FC490 will appear: |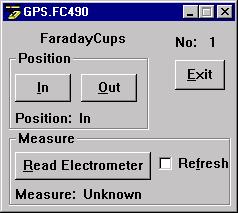 | | |
| --- | --- |
| | Pressing the In button places the Faraday Cup into the beam line. Pressing Out takes it away. |
| | The measure:"number" section shows the present beam current. |
It is possible to have different Faraday cups for different sections of the separators, i.e., HRS, GPS and Experimental Area (EA), simultaneously "IN". However it is still only one Faraday Cup "IN", for each section (HRS, GPS and EA).
When you move "IN" a Faraday Cup in one of these sections, the previous Faraday Cup (if any) of this section will go "OUT". The Faraday Cups of the other sections will not be affected.
The program Faraday Cup STATUS helps you to find which Faraday Cups are "IN" or in a undetermined position, i.e., "INVALID". All the other faraday Cups are (supposed to be) "OUT".
There are two properties designed for the use of the laser ion source: LASERCLOSE and LASEROPEN.
They are used via the Easy Equipment Access by typing in the EQUIPMENT NAME of the faraday cup, the PROPERTY "LASERCLOSE" and pressing READ.
LASERCLOSE permits to read continually, on the electrometer, the beam current (Without closing and opening the micro switches at each measurement). But the measurement for any others faraday cups will not be correct because they will all read this value.
LASEROPEN permits to stop this reading . Then one can use the electrometer as usual.
Warning1: Putting the faraday cup "OUT" will not do a "LASEROPEN" !!!
Warning2: Do not read (from anywhere: Panel, Logbook) the current for any Faraday Cup in any section when LASERCLOSE is in use. This will open the micro switches again and a new LASERCLOSE should be issued to reactivate the function.
GPS.FC020 (front-end): diam 125 mm
GPS.FC 490 (switchyard): 12 (horizontal) x 16 (vertical) mm
Faraday cups in beam-lines (all): diam. 5.5 mm
sized provided by E. Kugler 28.04.93